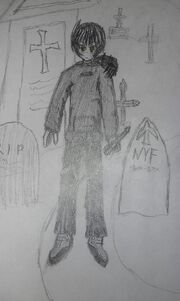 This article, Timothy K. Dread, is property of 
Orion's Dagger
.
Timothy is the special guardian that specializes in death. He is the personification of Death aka "The Grim Reaper". His signature color is grey.  He is the Guardian of Peace. 
He has a pet spider named Hades.
He became a Guardian during World War II.  They were captured by soldiers and where being taken away when his twin brother, Marcus, tripped.  A soldier decided to punish Marcus.  Timothy protected his brothers life and was then left to die on the road.  He laid on the road all day and then night fell.  It was a full moon.  Timothy then woke up on the cold gravel road.  He stood up, looked at the moon, then headed on his way.
Appearance
Edit
Timothy looks about 17.  He has dark black hair and bright yellow eyes.  His skin is very pale white.  He wears clothes according to the style and right now wears a black hoodie and jeans with dark grey sneakers.  Hades is usually sleeping in the hood.
Personality
Edit
He shows a very silent and serious personality, but he is also a little mischevious.  He likes to pulling pranks on others every now and then to lighten his mood.
Magical Abilities
Edit
He uses a small silver flute to create music which eases dying people into sleep.  He can also turn invisible, this is useful for people who are dying awake, avoiding people when he doesn't want to be seen, and pranking people, especially Pan.  He can also transport from one place in the world to another as long as both places have something in its history to do with death or dying.  Very rarely he uses a different ability.  This is when he uses his flute to summon a being of great importance from the past.  He then asks them what they think of the situation, and how they could help.
Relations
Edit
Marcus- Timothy's twin brother.  Believed to have died back in World War II but Timothy has told North he he saw Marcus in Louisiana once during Mardi Gras.  Timothy hopes he can someday see Marcus again.
North- North offers shelter to Timothy when rest is needed.
Rosie- A person who always seems to fing Timothy.  Saw him first in Wales while he was walking toward a graveyard.  Repeatedly has asked out on dates but he has refused all but the most recent.
Pan- The focus of Timothy's weekly mood lightening pranks.  He just doesn't know it's a prank.
Sandman- Timothy has often noticed Sandman looking in his direction whenever they are near each other, even when he is invisible.  Timothy does not know why but suspects the Sandman knows something about Timothy not even he himself knows about.
Hades- Timothy's pet.  Prefers to be called a "coworker".
Gaia/Mother Nature- Timothy, has no interest in meeting this Guardian, and just ignores her if he sees her nearby.  It might be rude, but he has his reasons.
Drippet-  Timothy saw Drippet die.  As Timothy was about to send Drippet to the otherworld.  The Man on the Moon stopped him.  Timothy then went on his way, never really saw Drippet again, believe it or not.
La Calavera Catrina-... Timothy has met her before.  He just wonders if the Man on the Moon has a limit on how many people he creates to govern death.  Maybe death is to large a power to be governed by one person.
Mid Noon-  Timothy and Mid are kind of...well, lets just say they don't work well together...
Notre Dame- Timothy has never seen her, but has tried multiple times to sneak into her castle, so he could consult her.
Sol-
Lindy Dezle- "Who?"
Ra-
The Dream Twins- Timothy doesn't really care or notice these two, just another two people luckier than him.
Idarii- Allies, at least that's what Idarii says.  Timothy is just feels like he missed something whenever Idarii is around.  It's as though Timothy has something to do whenever Idarii is there...
Allegro- Timothy cannot meet with Allegro due to certain circumstances, the fresh and clean aura Allegro gives off, makes it hard for Timothy to approach without Idarii there to act as a kind of messanger between the two.
Attitulo- Timothy, has never met Attitulo, it seems whenever he gets within a mile of him, Attitulo just disappears.